Sturdy Home-Safes with 90 minutes fire protection
Godrej Fire-Resistant Home-Safes
Godrej is a company that was established in India more than 110 years ago. The company manufactures high-security safes, vault doors, strongroom and archive room doors for banks, jewellery shops and financial institutions, office furniture, fire-resisting filing cabinets and also a wide range of appliances.
The Safire range of fire-resistant safes are tested and certified by
SP - Technical Resdearch Institute of Sweden to provide protection against fire for a period of 90 minutes for paper documents.
SP is one of the most respected and recognized testing laboratories in Europe. To know more about about SP you can visit www.sp.se.
How are the safes tested ? The safes the tested in accordance with the NordTest Method NT-FIRE 017. The safe is inserted in a pre-heated furnace and the temperature is raised to 1050 degrees Celsius and maintained for 90 minutes. The safe will pass the test only if the temperature inside the safe does not rise above 170 degrees Celsius which is well below the flash point or ignition point of paper.
The Safire range is available in 3 different sizes: 20 litres, 30 litres and 40 litres. The 20-litre and 30-litre safes are available in vertical and horizontal formats. The 40-litre unit is offered in the vertical format only.
There are 3 Locking options namely:
Option 1. Two Keylocks
Option 2. One Keylock + One Combination Lock
Option 3. One Electronic Digital Lock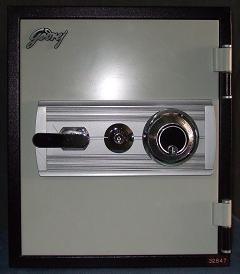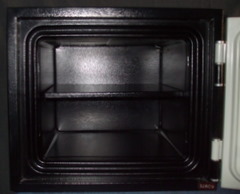 See more information about Home-Safes


Go from Home-Safes to Home Page